Solar string lights are not just great for illuminating the space, but they also serve the decorative functions. They look so cute hanging in your yard or the garden, basically anywhere.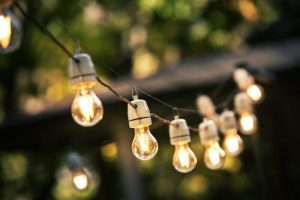 So before you go ahead and buy them, here is a guide for the best solar string lights available in the market:
Buyer's Guide
The buyer's guide should be considered before research is conducted on individual products.
The reason for that is because, when you know the features, you will be able to buy the product that completely suits all your needs.
Length
The length of the string is essential to consider. How much area do you need to light up? The length of the string will be by that.
Because the longer the solar string lights, the more bulbs they will have, and the more area they will be able to cover.
Distance Between The Bulbs
Every brand of string lights keep their bulbs at different distances.
The distance between the bulbs either adds up to or cuts the amount of brightness that the string lights are producing on the whole.
For that, you need to see if the string lights are the primary or the secondary source of light.
If they are fundamental, the distance needs to be less. If they are secondary, and only for decoration purposes, then the distance can be more.
Temperature
The temperature determines the color of the lights, and it is measured in Kelvins.
Normally, the temperature starts at 3000k. This kind of color temperature is warm, yellow, and soothing to the eyes.
The temperature can go up to 10,000k. The higher the color temperature, the whiter the color gets, until it starts looking like natural daylight.
You have to see what temperature you prefer.
Brightness
The brightness can be measured in lumens. Lumens are the brightness output of the individual bulb. Combined lumen output depends upon the brightness output of one bulb.
The brightness that you want also depends upon if the string lights are the primary source of illumination or the secondary.
Sometimes, you would not want the lights to be that bright, so you should go for a low lumen output.
If you want brightness, then go for higher lumen outputs.
Method of Hanging
The string lights can be hung in several different ways. You need to determine which way is the best one for you. Sometimes, you need to add hooks to hang the string lights.
See if you have enough walls to go around so that you could be drilling hooks onto them. They can also be hung with clips to anything that is on top of them so that trees would do too.
It all depends on how you are planning to hang them and where.
Top 15 Solar String Lights Reviews
After you know the basic features of all of the lights, you need to proceed to analyze the available products.

Now, as soon as you step inside the open market, you are faced with a million options that you can choose from.

So my team and I have compiled the list of the top products available in the market for your ease.
1. FOXLUX Solar String Lights
These 48 feet long LED light strings will give off a very warm ambiance. The color temperature that they have is 2200K.
The strand that they are attached to is soft, heavy-duty, and it's made out of rubber. They are also weatherproof so that you can use them outdoors.
They can't be broken easily, because they have a shatterproof glass. One string has 15 bulbs. A spare is also included. The distance between each bulb is 3.2 feet.
The lights will stay illuminated for 6-8 hours after the battery has been fully charged. The solar panel can be stuck into the ground or hung onto the wall.
More photo & price on amazon.com
Pros:
Automatic on
Shatterproof
No batteries needed
Sockets are waterproof
Cons:
Waterproof switch needs to be turned on
Replacement bulbs aren't available
2. Brightech LED Solar String Lights
Brightech Italian style lights are 27 feet long. There are two ways you can mount these LED light bulbs, stake panels, or clips.
The temperature that they give off is 3000k. They only take six hours to charge fully, and they last you for the same amount of hours.
The heat dissipation process is great, so they don't heat up. The bulbs are placed 20 inches apart from each other.
The strand is 27 feet long, and you can connect one to more. The difference between the solar panel and the first bulb is 6 feet. They are waterproof too.
More photo & price on amazon.com
Pros:
Warm light
Waterproof
Linkable
Easy installation
Cons:
Activate quite later
Length of one string is short
3. Sunlitec Solar String Lights
This string is adorned with 25 lights that are top quality. The string is 27 feet. The lights are heavy-duty enough to stay protected from water and sun and still give you a long lifetime.
The lights have four different modes of lighting; you can always switch between them. The modes are steady light, quick flash, pulsating light, and slow flash. Which means they can be used as decorative lights too.
The string lights have two charging options, solar panel and USB charging. So when you feel like one isn't going to work, the other one will be there.
More photo & price on amazon.com
Pros:
Bright
Four modes of operation
Waterproof
Two ways of charging
Cons:
First bulb is too close to the solar panel
Bulbs are too small
4. VNAMOO Solar Christmas Lights
VNAMOO solar Christmas lights are extremely festive and decorative! They can be used almost anywhere for decorative purposes.
They will save your energy because they are powered by solar energy. All you need to do is stick the spike of the panel in the ground, and let your place be illuminated by the pretty lights.
When sufficiently charged, they work for 8-10 hours.
You will find two switch buttons on it, one of them is for turning it on and off, the other one is meant for switching between different modes. They are also water-resistant.
More photo & price on amazon.com
Pros:
Less charging time, more working time
Eight working modes
Long cable
Have a timer
Cons:
5. Windpnn Solar String Lights
Windpnn solar Christmas lights are shaped like stars, which means they look really cute hanging wherever they are.
They are eco-friendly and will help you save up on electricity bills.
The lights are equipped with light sensors, so they will turn off during the day and will turn on automatically when the sun goes down.
There are two working modes, the steady one and the flashing one. These warm white lights are waterproof, so you can even use them for outdoor decoration.
After being charged fully, they can work for ten hours straight!
More photo & price on amazon.com
Pros:
Aesthetic
Light sensors
Two working modes
Waterproof
Cons:
Wire is bad quality
Not bright enough
6. IRECEY Solar String Lights
IRECEY solar string lights twinkle like the stars. They have crystal globes, so they look very cute and aesthetic.
They will work for ten to fifteen hours after they have been charged fully, which is quite a good amount of time.
There are 66 bubble globes on your 33 feet string. The working modes are of eight different types.
The solar-powered lights are waterproof, too, so you won't have to worry about the harsh weather.
They have sensors, so they turn on and off automatically.
More photo & price on amazon.com
Pros:
Cute crystal globes
Lasts at least 15 hours
Eight working modes
Waterproof
Cons:
Charges only when the switch is on
Not super bright
7. LALAPAO Solar String Lights
These lights look like stars. On a string of 72 feet, you will find 200 LEDs. You can hang them inside as well as outside because they are waterproof, they will receive no damage during the rain.
After they are charged fully, they will last about ten hours. They have eight different working modes. They have sensors so that they will turn on and off automatically.
There are two buttons, one for on-off and the other for switching between working modes.
More photo & price on amazon.com
Pros:
Eight working modes
Look like little stars
Long-lasting battery
Waterproof
Have sensors
Cons:
String gets tangled
Dim with time
8. Toodour Solar String Lights
Toodour fairy lights can be used anywhere, ranging from bedrooms and Christmas trees to outdoor parties and patios. They give off a warm vibe, so they give an extremely decorative look.
The light sensor that they feature controls when they need to turn on and off. They are weatherproof too.
Have a memory function, so they will turn on from where they were turned off. They are 72 feet long.
More photo & price on amazon.com
Pros:
Auto on and off
Different modes
Waterproof
Memory function
Decorative
Cons:
Less lumen output
Not bright at all
9. SVATER Solar String Lights
These bulbs hang on a 25 feet string, and they are 27 in number. They have an easy installation method, just clip the string to the wall.
The color temperature is a 2700k, which means their color is really warm. They can be charged using two methods, the solar and the USB method.
You can charge them for eight hours, and use them for another eight hours. The bulbs are of vintage style, so they are good for decoration too.
More photo & price on amazon.com
Pros:
Vintage style
Two charging methods
Bright
Warm tone
Cons:
Don't come with spare bulbs
Delicate glass
10. Brightown Solar String Lights
Brightown super bright solar powered lights will give you 100 bright LED bulbs on 33 feet string. They have a decent ambiance to them. Their light is warm and relaxing.
They are waterproof so they can withstand the weather. They have eight different lighting modes. After being fully charged, they will work for six to eight hours.
You won't need electricity because of their battery life. They have automatic on and off because they have light sensors.
More photo & price on amazon.com
Pros:
Warm relaxing light
Waterproof
Eight working modes
Light sensors
Cons:
Battery doesn't last too long
Too bright
11. Upoom Solar Fairy Lights
Every string light is 33 feet in length and is equipped with a hundred tiny little LEDs. The LEDs illuminate in every direction.
The lights will turn on and off automatically, and they have eight different working modes. They are waterproof and have a high battery capacity too.
The wire is easy to shape and doesn't break upon twisting and molding. They are easy to install, as well. They will last you long.
More photo & price on amazon.com
Pros:
Wide beam angle
Automatic on off
Wire is easy to shape
Easy to install
Cons:
Wire entangles
Battery doesn't last very long
12. AUGONE Solar String Lights
AUGONE led lights are 39 feet in total, comprising of 100 little LED lights, which is a sufficient length to fit any space, whether it is indoors or outdoors.
There are eight different modes of decoration, so you will be able to choose whatever mode you like.
The intelligent sensing makes the lights switch on and off automatically. The installation is easy, and so is shaping.
The wire is moldable, so it doesn't break. The light is warm and yellow. The product is also waterproof.
More photo & price on amazon.com
Pros:
Long length
Waterproof
Different modes
Sensors
Cons:
Nonreplaceable bulb
Doesn't charge if the switch isn't on
13. KESHI Solar String Lights
KESHI 100 lights on a string that is 40 feet are shaped like stars. They are waterproof so that they will decorate your outdoor space as well as indoors.
It will last twelve hours after they are fully charged, so you won't have that issue where the lights turn off too early before sunrise. Have sensors, too, so they turn on and off automatically.
They have eight different working modes. They are heatproof too, last longer than other solar power string lights.
More photo & price on amazon.com
Pros:
Shaped like stars
Weatherproof
Long battery
Different working modes
Cons:
Stars fall off
Tangle easily
14. Brightech Solar LED String Lights
These lights give off a nostalgic, warm glow, so you can come home and relax to them. They are heavy duty and easy to install. The temperature is 3000k.
They take 6 hours to charge and last for five hours. They are weatherproof and also made out of strong plastic shells so that they stay break-proof as well.
Every single strand is 27 feet, and the 12 bulbs are placed 20 inches apart from each other. The distance between the panel and the first bulb is six feet.
More photo & price on amazon.com
Pros:
Warm color
Waterproof
Heatproof
Strong shells
Cons:
Heat up easily
Don't last as long as led bulbs
15. JOOMER Solar String Lights
Lastly, we have JOOMER solar lights. Their strings are 72 feet long and have 200 LED lights. The power on and off is automatic because of sensors.
The two switches, one for on-off, and the other one for switching between modes make the operating process a lot easier and have eight working modes.
They are waterproof and can withstand harsh temperatures. They also have the memory function; the light will stay in the same mode before it was switched off.
More photo & price on amazon.com
Pros:
Memory function
Light sensors
Operation is easy
Waterproof
Cons:
Frequently Asked Questions
How long should solar lights last
On average, you can expect the batteries which run the solar lights to wear out after three to four years.
The LED lights that are being powered by them are enough to last you almost about ten years, or even more sometimes.
The only thing you will need to replace, now and then, are the batteries.
You will have to change the batteries when even after a bright sunny day, and the battery fully charged, the light will not be able to stay on for sufficient hours during the night.
How long do solar panels last
Usually, the warranties claim that solar panels are supposed to last for twenty-five years. You can expect that as well.
However, according to studies, panels operate at a reduced efficiency of 1 or 0.5% every year.
This means that due to their efficiency loss, they will stop operating as well as they did when they were fresh out of the package.
How bright are solar string lights
The light of the solar string lights depends upon the kind of bulb that is being used, whether it is incandescent or LED. And they are bright enough.
Do solar string lights have batteries
Solar string lights do have rechargeable batteries inside them. They will last typically between one or two years before they have to be replaced.
The batteries must always be rechargeable.
How to hang solar string lights
String lights are a little challenging to hang. They are a little tricky because they need to be hung using hooks and staples.
You place a hook onto the walls, and you hang the string. You can also staple the string into place.
If you have the materials that will make the lights adhere to the wall, they will become super easy to use.
How to use solar string lights
Solar string lights are those lights that are powered by solar energy.
They are to be hung in a place where there is sufficient solar energy so that the batteries of the solar string lights can be fully charged.
They are hung by hooks and staples.
Conclusion
There was the guide that you needed before purchasing the best solar string light that you need.
After going through this, you will manage to see which product you need, and which one you will buy, according to your circumstances.
Read Also: