Imagine a world without lights. It's too dark to imagine, right? Without all these lights, our world wouldn't have been the same.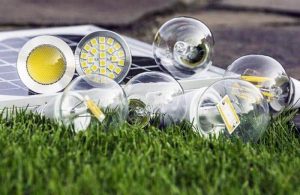 When Thomas Edison invented the bulb, people thought that it was the ultimate revolution, but the world had much more left to see.
One of the latest inventions is solar light. A solar light converts solar energy into electrical energy using photovoltaic cells.
In this article, we will discuss different types of solar lights on the basis of their location, shapes, etc.
Different Types of Solar Lights:
Solar lights can mainly be categorized as indoor solar lights such as solar sheds and desk lights and outdoor solar lights like garden lights, commercial area lights, etc.
They can be installed in a range of places, from homes to remote areas.
1. Solar Shed Lights
Solar shed light is used to illuminate sheds for gardens. Their main advantage is being easy to install and electric efficiency.
They mostly come with motion sensors so that it lights up only when someone's around.
The motion sensor is helpful not only in savings but also in comfort as you don't have to worry about switching ON and OFF when entering or leaving.
2. Flood Light
Floodlights are types of outdoor solar lights and are installed where a lot of regions are to be covered. There is more detail while installing solar lights due to their big domains.
You have to consider the optimum amount of brightness, positioning, and timing of the light's sensors.
The industry is trying to make floodlights that are installable in places having different situations.
The common places for floodlight include streets, parking lots, driveways, highways, and also stadiums.
3. Gutter Light
Gutter Light is a type of outdoor light and has many types. It is very eco-friendly and does not use electricity at all. It just needs light to convert into energy and produces light.
Nowadays, these lights are also being constructed in weather-resistant mode to survive severe weather conditions. It is used in roads, pathways, etc.
4. Hanging Solar Light
Hanging solar light is outdoor light that you can hang anywhere you want with appropriate support. You can hang them in your gardens. These are also used in weddings and outdoor functions.
These lights are used as a source of decoration as they give a classy touch to the environment around them. They are also eco-friendly as they use close to no light.
5. Solar Rope Light
As the name suggests, solar rope light is mainly used for lighting areas with the help of lights. They are mainly used for decoration. These can be used in places which are temporary settlings.
The rope lights are also very cost-efficient as you can use the same set for many places.
The mechanism is that the entire rope is powered by a single solar panel that is connected to a battery. They can also be used in different functions.
6. Solar Flagpole Light
Solar flagpole light is used in flag poles. These are a very important part of a country's flag. If you look at a picture of USA's fan in the night, it will be lighted by a flagpole.
A flagpole light uses solar energy to charge up, and the sensors attached to it makes it light up when there is no light around.
It is environmentally friendly and looks good on a flag.
7. Solar Post Light
Solar post light is used mainly in check posts and house doors. There are many types of post lights. They are used in houses outdoors for safety measures and also to light up gardens.
This light gives a relieved tone to your garden and makes it feel more comfortable and catchy.
Traditionally they were gas-powered, which were replaced by electric powered post lights.
The solar-powered post lights are new in the market and look more modern and innovative and have a classy touch to them.
They are the best environmental enhancing sources at low costs.
8. Solar Deck Light
These are new additions to the ever-increasing list of solar lights type.
Their main bodies are inside the walls to which they are attached, and only light parts are exposed, giving them an exceptional and innovative look.
These lights are liked by non-traditional people as a decoration piece in their housings.
They come in many styles and give perfect looks to stairs, walls, garage, giving them a rich and diligent vibe.
The solar deck light improves visibility and lends great looks and looks very cute around the house.
9. Solar Pathway Light
Solar pathway lights are used in walkways to give a diligent look. They look very beautiful and are very cost-efficient as compared to other lights around using direct electricity.
These lights are of a variety of types and are chosen according to the location in which they are to be set.
Solar pathway light looks futuristic and is much more beautiful as compared to simple lights with supports.
10. Solar Porch Lights
Now you can make your porch much more decorated by using solar porch lights, which are beautiful and cost-effective at the same time.
They give a vintage look to your porch. Providing with a queer sense of touché, these lights are affordable and reliable.
They provide perfect illumination if used in a proper way.
11. Solar String lights
Solar string lights are mainly a source of decoration and are not used in a normal day housing routine. They are used to provide and fancy look and portray a beautiful sense of gayness.
You often come across such lighting in fairs, weddings, carnivals, and other festivals.
They are also used by stall owners in order to make their stalls look more attractive and make the customers attracted towards them.
Easily portable and are connected to a single panel. They have also been seen connected with furniture and trees and other signs.
Due to their stringed structure, they can be fairly used as Christmas or Easter lights.
They can be hung from one side can be set up the way you like them. If used in the right color matching with the ambient, they give a fine look.
12. Solar Spot Lights
Speaking of innovation, solar spotlights are one of the newly brought solar lights in the market. They are perfect for placing on high walls and floors, giving a very rich look.
They are very cost-efficient and can be used in any corner or in any place you like. Used for small projected areas and do their job pretty well.
The lumen measure is the main indicator of the strength of such lights. This is considered when getting the maximum light possible.
13. Solar Lanterns
The vintage sense of lanterns is given a futuristic touch by adding the solar part. They provide the same old look with less pollution as there is no combustion.
The solar lanterns are portable and are used when a big range of light is to be carried around and is needed in more than one place.
These come very handy when you need to go to your background in the middle of the night, and you are afraid of the dark.
14. Solar Traffic Lights
This is a new revolution in traffic management. It is a great source of energy-saving and is environmentally friendly and innovative.
Governments are applying these lights in big ratios, and they also provide automatic traffic flow control. They have a bigger life span, faster response, and save a lot of money.
These lights are very important when there is a crisis shortage of electricity due to natural disaster or power shutdown.
Previously in such conditions, there were huge traffic jams and accidents. They regulate this problem very effectively.
15. Solar Emergency Lights
These are like bulbs but come with a solar system. These are used when there is an energy shortage in houses.
16. Solar Camping Lights
These are similar to emergency lights but differ in purpose. These lights are used in forest campings and are a good alternative to lighting fires.
17. Solar Sign Lights
Solar sign lights are very used in highways. They use solar light and light coming from vehicles to store it and convert it into electricity when needed.
Conclusion
We have tried to cover as many types of solar lights as we can in this article. We hope that we have sufficed your requirement of knowledge of this beautiful innovation in the engineering world.
These are lights of the future and are a good alternative for coming energy crises. It's time that you invest your money in the right place and bring'em home!
Read Also: