When it comes to decorating your home during festivals that you celebrate, there is no better way than by utilizing the solar rope lights to make your house pretty.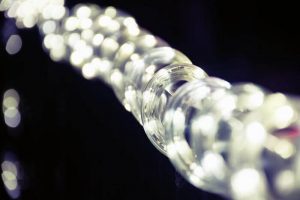 Comparing with the conventional ropes, solar lights don't consume the power energy while giving you the long bills, but they entirely run on solar power.
Thus, this will save you on electricity while still making your house equally beautiful. However, there are a variety of solar rope lights available to make your house pretty.
To make your decision process easy, we have collected a list along with the buying guide to assist you with analyzing the best size, quality, and voltage for your purpose of use.
Buying Guide
Due to a variety of solar lights rope available in the market and online with various sizes and purposes, you might need to consider a buying guide.
These lights are suitable for the patio, garden, or walkways, especially during the times of festivals. These solar lights illuminate the walkways to not to brighten the place but to enhance the beauty of that place.
To get started, let's check which factors you must investigate before purchasing any solar rope.
Purpose
First of all, you must ask yourself the purpose of using solar rope lights? Is it for a festival or just to decorate the area? Or would just install it for actual lighting?
Thus, if you plan to decorate, then you must consider some of the solar lighting ropes that we have reviewed for you, which can beautify the decoration of your festival or event.
While, if you want to light up the area to brighten up the ambiance, then you must consider solar lamp posts. Again, examine the purpose of using the rope to avoid disappointment in the end.
Outdoor or Indoor
Are you planning to use the solar rope lights in your bedroom or outdoors in the garden?
However, it should be noticed that if you are planning to use it in a patio or walkways, then you should purchase the one with waterproof material, so it does not ruin your event due to unpredicted weather conditions.
Moreover, you must also check for weatherproof material so it can withstand the different weather conditions such as windy, dusty, or too warm weather.
Speaking of weather, you should also check for those rope lights that come with a charger if the sun exposure is not that great in your area or your region is relatively colder.
Length
Solar rope lights are available in various lengths. You can get from short to long. Thus, the length of the rope will help you to determine how long rope you want?
Moreover, how much space you want to cover with the rope lights. Therefore, choose based on how large the area you wish to cover.
Price
This is the most critical factor when considering any purchase. Also, it is an essential factor when comparing your options to prevent purchasing the expensive one.
You don't have to worry since we have collected the top picks for you in an affordable range to ensure that you can choose the one that fits in your budget. Of course, price varies with quality.
The higher the price you pay, the greater the quality would be. Also, one of the factors that affects the price is the number of LED lights in a rope. The greater the number, the higher will be the price.
Top 10 Solar Rope Lights Reviews
If you are looking forward to buy solar rope lights, we have already shortlisted the best solar rope lights for you. Not only just reviews, we have compiled the pros and cons as well.

So, have a look at the reviews and then go ahead to purchase the best one in the market or online.
1. Homestarry 100 Ft Solar Rope Lights
This solar light rope comes with an exclusive dual system, which is a newly designed solar rope with 300 LEDs. These can be recharged till 6 hours, at which it will automatically be powered by 3AA batteries installed in it.
However, it comes with a remote that you have to use to switch on the solar panel to turn on the lights. This handy remote is easy to control and change the eight modes of lights that you require.
Moreover, it is waterproof, which means you can use it for your outdoor purpose. The rope is covered with an extra-thin waterproof layer, which avoids it from getting tangled and maintains flexibility.
More photo & price on amazon.com
Pros:
Easy to operate
Waterproof
Versatile
Cons:
2. GIGALUMI Outdoor Solar Rope Lights
The gigalumi solar light rope comes with 100 LED bulbs, which means the wire is not that long. However, the cable is made using copper with a 360-degree angle so they can illuminate and brighten every direction of the area.
It is flexible and easy to fold due to PVC tubes, which can be easily molded into any shape you want.  Thus, whenever you don't require it, you can easily fold it and put it in your drawer or store-room.
The light rope wouldn't take much of your storeroom space. The lights automatically turn on, with lighting up to 8 hours.
More photo & price on amazon.com
Pros:
Automatic setting
Eco-friendly
Durable
Cons:
Less LED bulbs
Not weather resistant
3. Oak Leaf Outdoor Solar String Lights
The Oak solar powered rope comes with a built-in smart light sensor that turns the light at night automatically and charges the battery during the day.
It comes with 100 LEDs which delivers adequate light in walkways, can be wrapped around trees, swimming pool or windows. The PVC tube makes it possible to get any shape.
Moreover, it is an outdoor light rope due to which it is weather and water-resistant.
More photo & price on amazon.com
Pros:
Weather-resistant
Automatic function
PVC tube
Cons:
4. BINZET LED Solar String Lights
The Binzet light rope comes with 100 LEDs, which makes every night event beautiful by shining its warm-white glow. It is perfect for winter festivals, patio, garden, bedroom, or pool.
It can be used for outdoor purposes without any fear, as it is waterproof. Also, with the latest technology, it has an auto function to switch on the lights.
More photo & price on amazon.com
Pros:
Automatic function
Gives aesthetic vibes
Eight lighting modes
Cons:
5. Aluvee Solar Rope String Lights
Aluvee solar light string can be used for outdoor purposes due to its waterproof feature. It comes with an automatic function that turns on during the night.
They are flexible, which can be easily molded into whichever shape you require.
It can be wound around windows, staircases, patios, decks, balconies to enhance the beauty of your house and to make a comfortable and cozy environment.
More photo & price on amazon.com
Pros:
Flexible
Water-resistant
Automatic setting
Cons:
6. SOCO Solar Rope Lights
The top-notch feature of this solar light rope is that it has an automatic function that turns on a light night and illuminates for 8-10 hours.
It has 8 different modes which you can change according to your mood. It is waterproof so you don't need to fear raindrops now.
Moreover, it is perfect the holiday festivals like Christmas and Thanksgiving to decorate your garden, patio, or even Christmas tree.
More photo & price on amazon.com
Pros:
Automatic setting
Perfect for holidays
Can illuminate for long hours
Cons:
7. FUNIAO LED Solar Rope Lights
These LED lights use high-efficiency solar panels to convert solar energy into electric energy. It can provide light for up to 24 hours, which means it has an efficient battery.
These lights are great for festive seasons like Christmas and Thanksgiving. You can not only decorate your patio or garden, but you can even make your Christmas tree colorful now.
So, no more worries about having a long electricity bill as it will save the energy bill.
More photo & price on amazon.com
Pros:
Waterproof
Efficient battery
Cons:
No PVC tube
No automatic function
8. JULYFIRE LED Solar Rope Lights
This solar light rope has 100 LEDs with two modes of light. You can adjust it according to your mood. It has an automatic function, which means the lights will automatically be on in the night.
It can be used for outdoor purposes as it is waterproof, so you do not need to fear the raindrops.
You can decorate your garden as well as a Christmas tree, too, without worrying about the weather conditions.
More photo & price on amazon.com
Pros:
Environment-friendly
Big solar panel
Waterproof
Cons:
9. LiyuanQ Solar String Rope Lights
This solar light string has a PVC tube, which ensures flexibility, and you can mold it in any shape you want. Lights are made using copper wires, which ensures durability.
Also, this can quickly be wrapped around the tree or windows. It comes with 100 LEDs with a 360-degree viewing angle to provide light in every direction.
It is waterproof, so without any fear, it can be used for outdoor purposes. It has eight lighting modes that can be adjusted according to your moods.
More photo & price on amazon.com
Pros:
Waterproof
Both outdoor and indoor
Durable
Cons:
10. MINGZHE Solar Rope String Lights
This multi-mode string provides you with three lighting modes so you can adjust it according to your mood.
It generally works for up to 6-8 hours, while the batteries of 1.2V provide power for 8-10 hours at night.
It is made up of materials that make the lights water-resistant. So, you no longer have to fear the heavy snowfall during the Christmas season now and can conveniently enjoy the holiday season by decorating your house with such pretty lights rope.
Moreover, the electricity is generated through the solar panel, so you no longer have to worry about the electricity bill.
It also has built-in smart technology, which turns off and on automatically during the day and night.
More photo & price on amazon.com
Pros:
Automatic setting
Longer lighting hours
Waterproof
Cons:
Frequently Asked Questions
Do LED rope lights get hot?
LED ropes generally do produce heat, but they are cool to touch if you install it properly.
While incandescent rope lights do get very hot.
How long do LED Rope Lights last?
LED rope lights last for 100,000 hours as LED bulbs use 1 watt per foot in power. Relatively, an outdated rope uses about 3 watts of light per bulb.
Also, in comparison to 100,000 hours, incandescent rope light uses about 25,000 hours, which proves to generate less energy efficiency.
How many LED rope lights can be connected?
It is recommended that not to use more than two complete strips together without adding in extra.
Moreover, higher gauge power wire and extra power supply can down the units.
Do patio string lights attract bugs?
Since the festive rope lights are made of yellow glass bulbs, which makes it impossible for the flying insects to see or to be attracted in relative to white bulbs which are chemical-free.
How do you hardwire LED rope lights?
If you want to hardwire the string light, then you just simply have to cut off the plug and strip out the outer jacket in order to expose the wires.
However, if you are using LED string lights, then it is supposed to be polarized, which allows the electrical current to flow in an assigned direction.
Why do rope lights fail?
Mostly, the rope lights fail because of the low bend angle.
Due to the wiring done internally, makes the bending in a direction, which can result in lights to fail.
Can you shorten LED string lights?
Yes, you can. All you need to do is to spot the point where there are two wires between the led, which you can cut and add a plug there.
However, it is not at all advisable to cut full-wave apart randomly.
How many lights does a 4ft tree need?
Since Christmas is just around the corner, so you need to know how much precisely lights you need. A 4 ft tree will require 100 lights.
However, if you love your tree to glow with lights, then you can even double or triple the amount.
Do solar lights need sun or just light?
No, solar lights don't need to require the direct sunlight to charge.
They need light in some form, which can even be produced through indirect sunlight like in cloudy days or through an artificial source like an incandescent bulb.
Are fairy lights waterproof?
Not every fairy light is waterproof, but most of them are as they are made from water-resistant materials.
Conclusion
Now that we have covered every angle for you so before purchasing do go through the reviews to find out the accurate size, length, price, and purpose of the lights.
Nonetheless, they add value to your house, complementing the decoration and enhancing the beauty.
Pick the one that best suits your needs.
Read Also: