If you are looking forward to illuminating anything outdoors using a landscape lighting system, you are going to have to do a little homework first.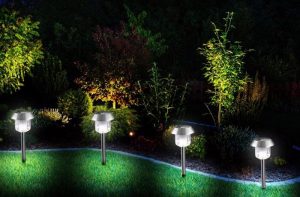 It would have been difficult, but luckily, we have got your back! Here is a complete guide towards the best-LED landscape lighting kits.
Buyer's Guide
If you have to make the best possible purchase, you would need to know about the basic things everyone has to consider.
Especially when it comes to lighting because it involves technical sophistication.
So here are the core concepts you need to grasp before proceeding to analyze different products.
Design of the System
There are different kinds of lights that you can use, depending upon the placement.
The path lights are used to line driveways and walkways. The floodlights and landscape spots are put on trees, fountains, plants, and other areas that are to be highlighted in the yard.
The spotlights are focused, but floodlights are meant for a wider area.
The good lights are instilled inside the ground to shine upwards; the deck lights are what line the stairs for the sake of visibility and protection.
So, the placement determines the kind of lighting you get. Make sure you keep that in mind.
Types of Lighting
No matter what system you use, they can be divided into three different types. The low voltage lighting system, the line voltage, and the solar-powered landscape types.
The first type, low voltage systems, use a transformer that takes the voltage of your house down from 120 volts to usually 12 volts. This system is recommended as it reduces the risk of shock.
The line voltage system uses the standard 120 voltage from your home, like other light fixtures.
And lastly, the solar-powered lights. They are self-dependent and are best for use in places where there are fewer clouds during the day.
Wiring
The distance of the power outlet from the light fixtures is going to determine the length of wire that you need.
Also, to make things easier, just run the cables to do the fixtures and tuck them behind plants or other things to cover them up.
You can also dig the ground and cover them slightly with mulch or dirt.
So, make sure you determine the locations where the wirings are to be laid and check if there is a hindrance in their path.
Transformer
Every LED light system needs a suitable transformer. The wattage that you need in your transformer can be determined by a simple formula.
Add the number of watts in every fixture that will be connected to the transformer. Then, multiply the number with 1.5. This is the number of watts your transformer should operate on.
So, get the transformer that is compatible with your lights.
Top 15 LED Landscape Lighting Kits Reviews
Next, our team has compiled a set of best products that are available in the market today to assist you with your purchase.

Without further ado, let's jump right into it.
1. LITOM LED Solar Landscape Spotlights
As the name suggests, these lights are solar-powered, and they are spotlights. They are tilted at an angle of ninety degrees, and they can be adjusted to 120 degrees.
Their battery is rechargeable, means it will charge during the day, and when the night falls, they will be used.
It also has two brightness modes, the low brightness, and the high brightness ones; you can change them depending upon the amount of sun during the day.
The lights are waterproof, and they also come with two different mounting options, you can stick them into the ground or mount it on the wall.
More photo & price on amazon.com
Pros:
Two brightness modes
Angle can be adjusted
Waterproof
Two different mounting options
12 hours of working time
Bright
Cons:
Can be pulled out and stolen easily
Slight shadow will not charge them sufficiently
2. GIGALUMI Solar Lights Outdoor
Another solar-powered product. These are great when it comes to aesthetics, the glass has great clarity, and they add a good flair to your lawn. The warm light creates a romantic atmosphere on your pathway.
They are solar-powered, there are six in the pack, and they need to be nailed inside the ground. After being fully charged, they can last up to ten hours.
More photo & price on amazon.com
Pros:
Solar-powered
Easy installation
Aesthetic look
Adequately bright
Cons:
The screw comes off easily
Doesn't have any other mounting method
Doesn't charge much on a cloudy day
3. DBF Solar Landscape Lights
If you are fond of colorful lights, then this is definitely what you are looking for. The dbf solar lights feature a variety of colors; all of them appear in different patterns.
There are actually nine different patterns in which these lights function.
They automatically turn off when the sun rises. You can mount them in two different ways, so that's a convenience.
They will function up to eight hours after a full recharge.
More photo & price on amazon.com
Pros:
Waterproof
Colorful, beautiful aesthetic
Different modes, still as well as blinking
Two different mounting methods
Rotatable
Cons:
Spike breaks easily
Not enough runtime
4. Nekteck Solar Landscape Lights
These lights can be used for different purposes, for garden, patio, on the pool, or on the pathways. This is because they offer a comfortable brightness level and an easy installation.
The only thing you should note is that the ground should be soft when you are nailing the light in place, do not hammer it. That will damage the product.
More photo & price on amazon.com
Pros:
Easy to install
Light is warm and bright
Affordable
Cons:
Not properly sealed
Ants and dirt get inside, affecting performance
Battery life isn't very good
Only one mounting method
5. VOLT Brass Spotlight Kit
Here is another cost-effective, aesthetic product. The PA page comes with a transformer so you wouldn't have to worry about that.
The fixtures are all 12V, which is an appropriate voltage for home lighting.
You can hammer it in the ground, but make sure you get the wiring done before you hammer the thing into place.
More photo & price on amazon.com
Pros:
Aesthetic look
Warm, bright light
Transformer included
Low voltage
Cons:
One mounting method
Bulb is hard to install
6. Beau Jardin Landscape Solar Lights
This set of light does it differently. They look like little antique street lights, which look adorable while they side inside your garden.
The covered top makes it easier for the rain and dirt to slide off, which means the bulb inside remains safe.
The light will last up to 12 hours after a full charge, and those are good numbers.
Now you will not have to worry about the lights in whatever weather they face, because they can resist them all.
More photo & price on amazon.com
Pros: 
Weather-resistant
Good runtime
Diamond shape gives a good look
Easy to assemble
Cons: 
Tip breaks when removing from the ground
Don't last long
7. URPOWER Landscape Solar Lights
These in-ground lights are a complete package. During the day, they absorb energy, and at night, they give it out.
Every single light is independent, and they are all waterproof. They will charge for four to five hours during the day and then run for about six to nine hours.
The brightness has two modes, high and low. You won't have to go through any painful installation procedures, just simply stick it in the ground, and you're good to go.
More photo & price on amazon.com
Pros:
Easy to install
Two modes of brightness
Low voltage
More than one mounting methods
Waterproof
Adjustable angle
Cons:
Not very bright
Won't last too long
8. ZUCKEO 5W LED Landscape Lights
These lights make it easy to protect as well as decorate at the same time. They give off a beautiful warm light that is good for illuminating trees and plants too.
They operate at a low voltage so that they will save you tons of billing as well.
This means they can also operate with a low voltage transformer, saving more money. They are extremely water and dirt proof too.
More photo & price on amazon.com
Pros:
Water and dirt proof
Decorative function
Low voltage operation
Solid metal structure
Cons:
Transformer not included in the kit
Connectors not included in the kit
9. Hypergiant 12W LED Landscape Lights
These hypergiant led lights are easy to install and are meant for anything ranging from gardens and patios to trees and plants.
The spikes just need to be stuck inside the ground for installation.
They are waterproof and will last you more than 20,000 hours. The light is warm and gives off an appealing aura.
More photo & price on amazon.com
Pros:
Weather-resistant
Bright
Operate at low wattage
Easy installation
Manual is included
Cons:
Transformer not included
Wire is too short
10. Greenclick 12V LED Landscape Lights
The greenclick led escape lights are going to give you a cozy glow that is great to illuminate your yard. They are the perfect addition to your night parties.
The package includes everything that you need for the installation process, four lights, one transformer, connecting cables, shape tool, user manual in multiple languages, screws, as well as the spiked stand. Isn't that easy?
The angles are adjustable, and the product works in any weather at all.
More photo & price on amazon.com
Pros:
Package includes everything
Easy installation
Water and weather resistant
Warm glow
Cons:
Extensions may not be long enough
Won't last too long
11. Moonrays LED Landscape Spot Light
Say hi to the lowest voltage operating fixture. Just one volt! This will save you more energy than you envisage.
The adjustable heads let you shine light on whatever angle you are willing to.
The lights will blend nicely into the landscape. They are water-resistant because of their hard aluminum body.
More photo & price on amazon.com
Pros:
Low voltage
Black sturdy metal
Adjustable heads
Blend into landscape
Cons:
Shipped with bare wires
Aren't properly sealed
12. Sunriver LED Landscape Lights
When a transformer is included, it makes your job way too easy. That is the advantage Sunriver gives you.
You have everything that you need included in the package, so you will not have to go to extra heights to check the compatibility and buy various components.
The manual is also included so the installation will become as simple as ABC.
More photo & price on amazon.com
Pros:
Waterproof and shock-resistant
Convex lens is clear
Work on low voltage
Warm lights
Cons:
Does not come with wire connectors
Rust spots form around metal rings
13. InnoGear Landscape Solar Lights
The InnoGear lights are designed so that they manage to take sunlight from just about anywhere, unlike other solar lights that don't charge even at the slightest shade.
You can choose from two different light modes. It charges quite well, and the run time is a solid eight to twelve hours.
More photo & price on amazon.com
Pros:
Operates well in less sunny days
Good run time
Two brightness modes
Two mounting methods
Cons:
Switch needs to be on before use
Made of plastic
14. FVTLED LED Landscape Lighting Kit
Designed to shine from inside the ground, these lights give your stairs or your ground a very aesthetic look.
You can use them outdoors as well as indoors; they are good enough for anything.
They will serve you a long life span, up to 50,000 hours. Every light has 6 LED lights. It can sit flat on any surface, hard or soft.
More photo & price on amazon.com
Pros:
Very bright
Connectors included
Connectors are waterproof
Long lifespan
Cons:
Wire is short
You need to drill holes for installation
15. SUNVIE 12W LED Landscape Lights
Last but not least, we have low voltage garden lights from Sunvie. Coming in a pack of eight, these lights can withstand any weather or temperature.
The adjustable head gives them a wide range of applications. Installation is easy; all you need to do is insert the spike into the ground.
More photo & price on amazon.com
Pros:
Easy installation
Triple water resistant
Rotatable
Low voltage
Cons:
Transformer not included
Connectors not included
Frequently Asked Questions
What are Malibu lights?
Malibu light is a brand that manufactures garden lighting or landscape lighting.
This kind of lighting is used to illuminate the public landscapes or private gardens during night time, for many different purposes.
The main function they serve is obviously illumination, but also accessibility, nighttime aesthetics, security, recreation, etc.
These are placed during events for the sake of aesthetic lighting.
What is a good wattage for outdoor lights?
The best wattage for the lighting that you can place outdoors is ideally 80 watts. You can go lower too.
Forty watts and above will be suitable for the situations in which you have to light garden beds and pathways.
You can use lighting that is between 40 and 80 watts for smaller yards and driveways.
Eighty watts are dark sky approved, which means they are an environmentally friendly wattage.
How long do LED landscape lights last?
After being installed, the LED light system will require maintenance, just like any other system.
However, if you are using an LED system instead of a traditional incandescent bulb lighting system, it will last you way longer, probably 25 times longer.
LED bulbs can give you an extra 25000 hours, and if you invest in the better ones, they can even last you 50,000 hours.
Do LED landscape lights to need a special transformer?
If you want your LED bulbs to work properly, you would have to install a driver, which is a special kind of transformer.
The LEDs with mains voltage have a built-in driver, which means the bulb comes with the driver.
However, if you are replacing your traditional bulbs with LED lights, then you would have to change the transformer too.
How long does low voltage LED light last?
The main advantage that LED lights to have over traditional bulbs is that they tend to last way longer, no matter what their wattage is.
An average LED bulb is going to last you 50,000 hours.
If you assume that an LED bulb will be running for 8 hours a day, then you can expect the LED lights to last you for 17.1 years, whereas a traditional light bulb will last 1.7 years.
However, if your LED light is too cheap and low wattage, it may burn out earlier.
Can you mix halogen and LED landscape lights?
If you have the same transformer, you can mix halogen and LED landscape lights.
The halogen equivalent of a 50 watt LED light will only use a few watts, like five to seven, but the LED bulbs last you way longer.
They are worth the price.
How far apart should landscape lights be?
As a general rule, they can be six to eight feet apart. This will keep your path well lit and bright.
However, you don't necessarily have to follow this. If you want your path to be particularly vivid, you can place them even closer.
How much does it cost for landscape lighting?
On average, the landscape lighting installation will cost you $3000, with the wiring and transformer of 10 LED bulbs.
If you want to have additional lights, you will have to pay almost $185 to $195 per fixture.
This additional price includes the cost of wiring and installation
Are LED landscape lights worth it?
An LED escape light is going to cost you much; however, if you think long term, you will be able to save up much with LED light fixtures. They will prove to be worth it.
They last up to 50000 hours, which is way more than an incandescent bulb light.
More than that, you can save up to eighty percent on your electricity bills when you switch to LED bulbs.
Do low voltage lights use less electricity?
Yes, they do. Low voltage lights use less energy, so you will be able to save much if you use low voltage lights.
They will provide you with excellent illumination too.
Conclusion
There was the complete guide towards the best-led landscape kits that you can purchase to light up your place.
Now go out there and make the best purchase possible!
Read Also: