Outdoor LED Flood Lights play a significant role in all outdoor activities and are a vital part of the household nowadays.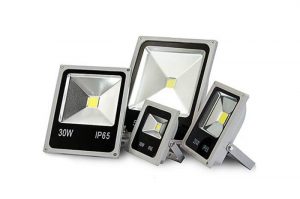 You should look for energy saving, bright, durable, and easy to install and use LED lights for your backyard, garage, lawn, or wherever you want to place them.
To make it easier for you, we have shortlisted and reviewed the 15 best outdoor floodlights, so you can make the right purchase.
Buyer's Guide
Before we go to our top 15 picks, below are essential features you should be looking for in your outdoor LED flood lights for the best outdoor activities ever.
Power Selection
The power of the floodlight is ranged from 20W to 1000W. Now you need to know what range you need your lights to fall in, and this will entirely depend on the purpose you're getting them for.
If they are for your backyard, BBQ party, or any other outdoor activity, the lux level should be around 100. To find the corresponding wattage, apply this simple formula.
If you have a 50sq meter yard, the brightness required is 50 x 100 = 5000 lumens.
For the LED having 130 lumens per watt, the power needed is 5000 / 130 = 38.5W. And hence, a 40W LED would be suitable.
This value varies with the size of your backyard as well as lux requirement.
Location
Outdoor LED floodlights should not shine on your neighbour's house, annoying them.
They should be such that they allow you to place them at least at an angle of 22 degrees facing downwards to ensure that the outdoor LED floodlights shine their full beam on the intended area or object.
Energy Saving
The LED floodlights should have an energy-saving feature, so you don't end up increasing your electricity bills much.
Finish
Stainless steel, copper, or painted lights cover an aluminum base should be your preference when you're looking for LED floodlights.
These are considered to be of good quality and are durable, lasting you a long time.
Lifetime
LED lights have a higher life expectancy than other lights.
LED surge lights to have an expected life of around 50000 to 80000 hours, which are five to multiple times of halogen and metal halide lights.
Buying these would be the best decision you'll make due to their long life as you won't have to purchase them again and again.
Check for the life expectancy when buying LED floodlights.
Motion Sensors
Some outdoor LED floodlights have motion sensors. These can detect movement and existence of beings up to 75 feet away. Homeowners get greater security due to this feature.
LED floodlights with motion sensors are not even that expensive.
If security is an essential aspect for you, then this factor should be one of the topmost priorities when buying outdoor floodlights.
Heat Dissipation
Heat dissipation is usually mentioned in the product description by the manufacturer. The fact is the LED chips will be damaged if the junction temperature is kept incredibly high.
A good, effective heat sink system is what you should be looking for. A good heat sink system transfers heat from the internal structure to the outside effectively.
Aluminum is a good conducting material to fabricate the heat dissipation system. Go for LED floodlights that are made up of aluminum or a related alloy of aluminum.
Waterproof
Water-resistant is a vital feature for outdoor floodlights.
This ensures that they work under rain or snowstorm, the luminary should have at least IP65 ingress protection rating.
Automatic
Automatic lights turn on themselves at dusk and switch off at dawn. You can save significant amounts on energy bills with the help of these.
These are also great for security purposes as they won't keep on for long, continuous hours and would not overheat.
Top 15 Outdoor LED Flood Lights Reviews
Without further ado, let's look at our top fifteen picks. We have reviewed each product so you can make the best choice.
1. ZOOKKI Solar Outdoor Lights
This product is fantastic for outdoor lights, as it is solar, plus it is easy to install with just a key pin. It should be investing at 6.15-13 feet.
The light is wireless solar power. It has 28 bright LEDs, which is made of high-impact ABS. It is also strong enough to work in the rain, snow, or any harsh weather.
This outdoor light can be used in the garage or stairs as they are waterproof and heatproof.
More photo & price on amazon.com
Pros:
Easy to install
Solar lights
Wireless
Cons:
2. LEPOWER 50W LED Flood Lights
LEPOWER is a great light, which comes in two packs. It is ultra-bright and saves 80% of the energy. It is white light, plus it is waterproof.
It is made of durable material as qualified by the FCC. As the material is also made of tempered glass and cross design to reduce the heat, which helps to enhance the life of the door light.
More photo & price on amazon.com
Pros:
Ultra-bright
Saves energy
Waterproof
Cons:
Poor quality
Bulbs burn out
Not durable
3. GLORIOUS Outdoor Solar Security Light
GLORIOUS-LITE are great lights that are bright and are solar-powered. It can easily be installed as no wire or main power is required.
It is built with a 180-degree wide sensing angle and can easily be adjusted. It has built-in sensor motions.
It has three different modes as well, on and off plus the auto mode, which will help to meet the different needs of customers.
More photo & price on amazon.com
Pros:
Waterproof
Adjustable
Sensor motion
Cons:
Poor quality control
Ineffective
4. iThird LED Solar Powered Outdoor Lights
This product is the best for outdoor led. It comes with adjustable modes that are motion activated by the solar security lights.
It has a sensor and dim light mode. Sensor mode, and always-on mode for practical use, and it also helps to save energy.
It is waterproof and rustproof; therefore, it is durable as well.
More photo & price on amazon.com
Pros:
Three modes
Adjustable
Eco-friendly
Waterproof flood led
Cons:
Poor battery running timings
The light is not bright enough for outdoor use
5. MELPO LED Flood Light Outdoor
Melpo is an excellent flood LED, which comes in 120 colors that are dimmable as well. It is super easy to operate with the help of the IR remote.
It also has four modes of lighting, plus it is durable and waterproof too. It has a memory function that remembers the setting of lights so you don't have to adjust the lighting every time.
It is easy to install and is a perfect partner for your outdoor lighting.
More photo & price on amazon.com
Pros:
120 color of lights
Durable
Easy to operate
Con:
Remote does not work
Cheap product
6. AmeriTop LED Solar Lights Outdoor
Ameritop is a great and super strong product, which has ultra-bright flood LEDs. The light is built with three heads for brightness.
The battery charges quickly and works perfectly. The heads are very adjustable as they can move to 180 degrees.
It is also built with smart motion sensors, which help in giving an excellent performance.
It can face harsh weather as they are designed to be waterproof and rustproof.
More photo & price on amazon.com
Pros:
Three heads-ultra bright
Adjustable
Waterproof and rustproof
Cons:
7. SANSI LED Outdoor Flood Lights
SANSI LED is a great product that provides wide coverage of ultra-bright light. It comes with the feature of auto on and off.
It has a dusk to dawn photocell that senses the sunrise and sunset. Auto features work according to the day and night time.
It is a durable product as it runs up to 50000 hours.
More photo & price on amazon.com
Pros:
Great coverage
Auto on and off feature
Durable
Cons:
Poor quality
Lights burn out
8. Onforu LED Outdoor Flood Lights
Onforu floodlights are super bright and give excellent performance.
They also help to save energy and reduce the running cost by up to 80%. It is effortless to install the floodlight as they have a metal bracket.
The lights are waterproof as they are made of die-cast aluminum and tempered glass, which helps it to work flawlessly even in rain or snow.
More photo & price on amazon.com
Pros:
Save energy
Easy to install
Super bright
Con:
Not durable
Ineffective quality
9. Aootek LED Solar Outdoor Lights
Aootek 92 led is a great product, as it comes in three modes of functioning; the first is security light mode, permanent on all night mode, and smart brightness control mode.
It has excellent light and helps to save energy as well. It also has the feature of the PIR motion inductor, which can detect the objects up to 26 feet.
With the Aootek outdoor flood light, you do not have to worry about energy cost and low brightness.
More photo & price on amazon.com
Pros:
Effective flood LEDs
Pack of 4 LEDs
Three mode features
Cons:
Lights burn out
The battery does not charge quickly
10. Vivii LED Outdoor Flood Lights
The Vivii solar lights are great in quality and performance as they are super bright.
They have dedicated sensors built-in, that works perfectly. It is waterproof and is also long-lasting as it works all night with 7 hours of charging.
These lights are easy to install, as the screws and hinge are included in the product and, no complex wiring is required.
More photo & price on amazon.com
Pros:
Long-lasting
Super bight
Dedicated sensor
Cons:
Inefficient quality
Poor floor light
11. LITOM LED Security Solar Lights

Litom solar light comes in a pack of two. It has wide coverage and the lights are super bright.
It is built with a smart PIR motion sensor, which can detect the movement of objects up to 26 feet with 120 angles of detections.
it is also waterproof, which leads to an increase in durability.
More photo & price on amazon.com
Pros:
Great coverage
PIR motion sensor
Durable
Cons:
Lights burn out
Poor performance
12. LEPOWER LED Outdoor Flood Lights
LePower is one of the best floodlights as they deliver ultra-bright light. These lights are made with great quality material and are also waterproof.
They can be easily installed and adjusted with metal brackets. It is FCC qualified and has UL plugs along with ground wire; therefore, it has a safety guarantee.
More photo & price on amazon.com
Pros:
Great quality
Waterproof
Super bright
Cons:
Not durable
Lights burn out quickly
13. GOERTEK LED Solar Lights Outdoor
This product is built with great technology, as it has an invisible pinhole switch and 360-degree rotatable spotlight also. The feature it has is a PIR sensor and two modes of lighting.
It is easy to install and is waterproof. These are wireless spotlights that can be mounted at any wall offering outstanding convenience and portability.
More photo & price on amazon.com
Pros:
Invisible pinhole switch
Spotlight
Portable
Cons:
14. Hyperikon LED Outdoor Flood Lights

Hyperikon led lights are made with robust material that is weather-resistant and can stand rain as well as snow. Along with being weather resistant, they deliver exceptional ultra-bright light.
They are easy to install with just mounting on the wall. It also has a motion sensor that detects the person from a range of 30-40 feet.
Through photocell technology, it can sense dusk and dawn to operate effectively.
More photo & price on amazon.com
Pros:
Waterproof
Great quality
Durable
Cons:
Expensive
Poor quality control
15. InnoGear Solar Gutter Lights Wall Sconces
InnoGear lights have four modes that help in delivering great light and performance.
It has an updated solar panel, which allows it to work faster, even on less sunny days. It is waterproof and heatproof. Therefore, it has a long life span.
It can easily be installed as it has mounting pole ply. These solar gutter lights are perfect for outdoors as they are packed with powerful 36 super-bright LEDs.
More photo & price on amazon.com
Pros:
Mounting pole
Upgraded solar panels
Four modes
Cons:
Lights burn out quickly
Less battery timing
Frequently Asked Questions
Can you use LED floodlights outdoor?
There are specific LED floodlights manufactured for outdoors, that are waterproof, extreme temperature resistant, and are suitable for outdoor conditions.
What is the 50w LED floodlight equivalent to?
LED floodlight equivalents to traditional incandescent light bulbs.
A 50 Watt incandescent light bulb is equivalent to a 5 Watt LED floodlight.
How many lumens do I need for outdoor lighting?
Lumens measure the intensity of light. The amount of lumens you need for your outdoor lighting depends on the kind of outdoor lighting you want.
According to professionals' you'd need around 100-200 lumens for Path Lighting, 12-100 lumens for steps, 700-1300 lumens for floodlights, and around 300-700 lumens for motion sensors.
If you're looking for pond or pool lights, then you might require 200-400 lumens, 50-185 lumens for hardscape lights, and 50-300 lumens for a landscape.
Are LED floodlights suitable for outdoor use?
Yes, the LED floodlights can be used outdoors and in all seasons.
The LED light bulbs are safely CE and UL certified for indoor and outdoor use.
What is the right wattage for outdoor lights?
The most appropriate wattage for outdoor lighting is up to 80 Watts.
If you're looking for lighting for pathways and garden beds, then 40 Watts or lower would be ideal.
40 – 80 Watts are suitable for brightening areas like driveways and smaller yards.
Eighty watts and lower are Dark Sky lighting approved, meaning you're helping the environment too.
What color temperature is best for outdoor lighting?
Outdoor lighting is usually between 2500k-4000k. Warmer colors are soft and are used on architectural elements (between 2500k-2700k).
Cooler temperatures are used on a landscape (generally 3000k-4000k), focusing on the plant material.
Do LED lights need a special photocell?
LED lights need a special photocell, well it is not necessary because it is stated that LED's current continually flows through the bulbs.
That is why it is not recommended as photocell needs more energy to analyze when it is daytime and when it is night time. This is only one aspect.
The photocell will be able to give your fixture an extended economic life as it will turn on whenever it is dark and vice versa automatically.
This is how different concepts are depending on what you need and your concerns.
What is the difference in the color temperature of LED lights?
LED lights are available in different colors; a lower kelvin number represents the more yellow light.
While the one with higher kelvin number represents that it is more towards blue or white.
White lights are marked with a 3500-4100K, while others that are yellow consist of 2700-3000K.
Do LED floodlights work in cold weather?
This is a critical question that you must know and check beforehand.
LED floodlights can withstand all temperatures as they are not made of breakable glass components, which make them very adaptable at different temperatures.
They can bear cold temperatures easily.
What is the solar-powered floodlight?
Solar-powered flood lights are another evolution which is more efficient to provide lighting without the need of utility electricity.
It can use a sensor with the light and then works automatically with no requirement of wires to install them.
Conclusion
To get yourself the best-LED floodlight, you need to consider the price range so that you can narrow down your options.
Also, consider the type of installation you want and the level of brightness you need.
We hope that you find the perfect one for your outdoor setup amongst our top picks.
Read Also: