There are many types of outdoor/landscape lighting fixtures that we can look out for. Many are successful in finding them but mostly fail to understand which type is suitable for which place and at what time.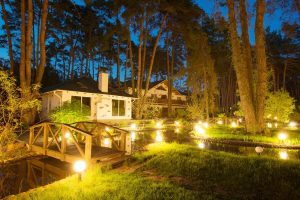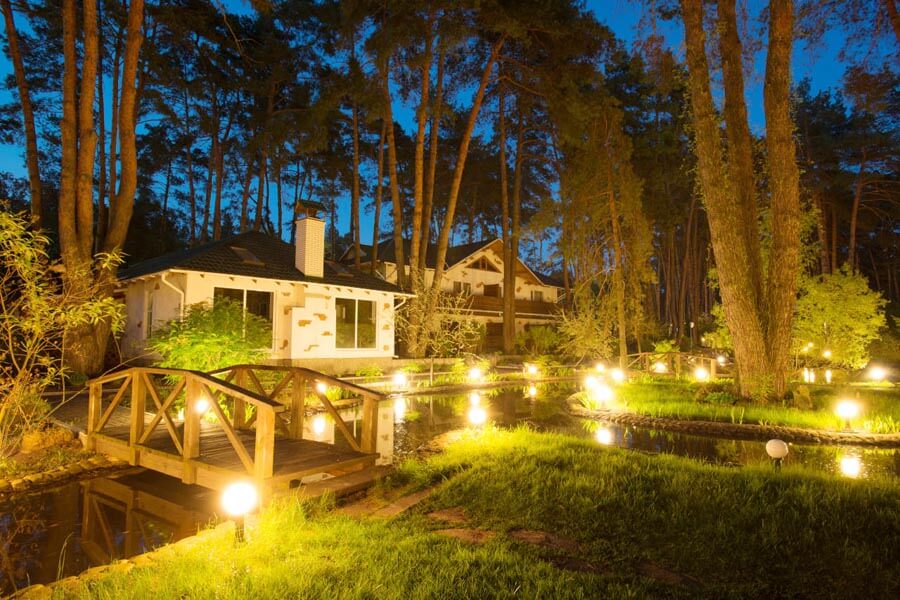 All these questions are confusing, but we are here to answer them for you.
First of all, let's discuss what a landscape lighting is basically.
Well, landscape lighting or garden lighting refers to the use of outdoor illumination of private gardens and public landscapes; for the enhancement and purposes of safety, nighttime aesthetics, accessibility, security, recreation and sports, social and event purposes.
So if you are looking for a lighting experience that covers all these, then you need to continue reading.
Types of Landscape Lighting
Without any further ado, let's get on with it:
1. Path Lights
Safety and security are the primary purposes of any outdoor lighting, but the aesthetic appeal is a happy byproduct.
Path lighting basically allows you to walk at night safely in conditions of low or no natural light and, as a general rule, plan on placing the lights six to eight feet apart to keep your pathway bright and well-lit.
But don't be afraid to place them closer, especially if you want a particularly vivid effect, again it depends on your choice and style.
Path lights are the most common type of landscape lighting and are quite affordable as well when you buy them in a bunch, so don't skip out on these.
2. Floodlights
These are the most efficient types of outdoor lighting, especially to brighten up certain areas in gardens, outdoor terraces, and much more.
These basically spotlights, but instead, they flood the whole area with ambient lighting, which is bright enough and provides wider coverage.
You can also use them to brighten up your backyards, driveways, and patios.
3. Up Lighting
This is also another type of important and useful lighting fixture that helps illuminate and enhance a tall structure that might be a traditional old tree in your garden that is special to your heart, and you want to provide an audience to it, or it can be a bark or a bush even.
The lights are pointed upwards, as the name suggests, and the lights primarily create a dramatic effect, and you can also change their directions.
4. Wall Wash Lighting
Wall washing is a technique typically used to light up flat walls. You get a nice, even distribution of light from floor to ceiling, bringing your attention to large, smooth, and vertical places.
Wall grazing fixtures are similarly designed to graze a textured surface such as a stone or brick with light.
Wash lighting provides additional ambient lighting and is often used as the ideal vantage to the surface you are lighting up.
It creates a nice and soothing glow with a more natural outlook to enhance the beauty of your garden walls or any private landscape for the fact.
5. Silhouette Lighting
Silhouette lighting in gardens is a form of outdoor garden lighting called uplighting also.
You can use it as a form of backlighting as it created a focal point with a sense of drama and romance. So this is how you utilize it.
Basically, you can take an object such as a good looking rock and place the light behind it to create a dramatic effect.
The glowing outline will define superior authority, and side by side, create a shadow effect so you can present the lighting better.
6. Natural Moonlighting
Moonlighting is a type of downlighting that is intended to recreate the look of moonlight.
The light shines down from high up in the trees, and the foliage breaks up the pattern of the light, casting a dappled shadow on your property.
You can create the perfect effect with the help of natural moonlighting if you have trees, bushes, and sprawling canopies all in your garden or any private landscape.
Simply place a tree ring light in the tip-toes of the tree and aim the light to face downwards. This creates an effect on the ground providing flooded lights.
7. Shadow Lighting
So basically, now that we know about silhouette lighting, we can say that shadow lighting is the mere opposite of that.
It brings you to yet another common type of outdoors or landscape lighting, which involves placing a light in between the ideal vantage point and featuring the light where it is focused upon.
To create this special shadow effect, the light will have to be directed on an object such as a wall that will catch the light and cast a shadow, respectively.
Conclusion
So these are the different types of landscape lighting, and we hope all your queries regarding landscape lighting have been answered.
Now you can pick one of the types and enhance your outdoor area with these perfect yet affordable lighting fixtures and also invite guests to enjoy the perfect view.
As we already know, landscape lighting, if done right, is a whole another level and helps set the mood in the most amazing way providing you relaxation at the same time.