If you have just built a house, or are looking forward to the renovation of the bathroom, then the lighting of the vanity area can pose a whole new challenge.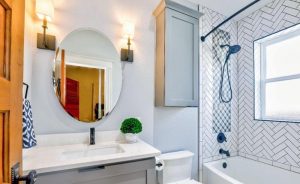 It isn't just about what to buy, but also about how to place the lights that you purchase.
Well, don't worry, we are here to help!
Here, we have compiled for you the guide for the best-LED light bulbs for bathroom vanity available in the open market.
Buyer's Guide
It is more important to know the basics of bathroom vanity light lighting than anything else.
You will need to have a basic knowledge of that area if you want to understand what kind of product you want fully.
So before you read the product reviews, we deemed it as necessary to have you look at the buyer's guide.
Number of Lights
The number of lights that you choose to buy for your bathroom vanity depends mostly upon the area of the vanity space.
If you have a single, simple sink, then a pair of wall sconces will do. This will give a very even lighting to the entire space.
They can be placed on either side of the mirrors. You can have one light above the mirror as well. If that is the case, then choose a light that is one-third of the length of the mirror.
Or you can combine many lights, but they should all come together to form only one-third of the mirror's length. Otherwise, it will become overpowering.
Kind of Lights
Your style of mounting your vanity lights will depend solely upon your taste. They can go on the sides, or above the mirror.
It is recommended, however, to place them on the sides. Because the asymmetry reduces the awkward facial shadows.
But if due to lack of space, you are bound to place them at the top, then better place them at the eye level.
So, do buy the light according to the placement of it, because for every placement, there is a different design.
Brightness
The brightness means the amount of lumens that the bulbs radiate. Lumen output holds immense importance for the vanity because you need to perform detailed tasks in front of the mirror.
According to the American Lighting Association, you need at least 1600 lumens of light above your vanity space.
A 60-watt bulb usually has a lumen output of 800 lumens. Choose your lights accordingly.
Temperature of Light
The temperature of light that you want (in Kelvins) depends upon your preference only. Soft white is yellow and warm and falls in between 2700 to 3000 Kelvins.
The warm white, which is between 3000 and 4000 watts, the yellow kind of white.
The bright white light, which is 4000 to 5000 kelvin, has blue tones. So decide what you prefer amongst them.
It is recommended to use the warm white for bathrooms and kitchens, though.
Top 15 LED Light Bulbs for Bathroom Vanity Reviews
After going through the basic things you need to be wary of, let's move to the best products that are available in the market.

Because, of course, as soon as you step inside the market, you are faced with a million options.

The following reviews will help you with your overwhelming experience.
1. Hansang G25 LED Vanity Light Bulb
You can fit these bulbs around the sides of your mirror; it will look stunning. They give you two different color temperatures, the daylight, and the warm light. This is a huge plus.
The temperature of the daylight setting is 5000k, and the warm setting is 2700k.
The bulb comes in two different base sizes, the E12 base, and the E26, so it is easy to fit in different places.
More photo & price on amazon.com
Pros:
Different sized bases
Two brightness modes
Wide applications
Protect eyesight
Cons:
Nondimmable
Voltage high, can't be fitted around water sources
2. Hansang G25 LED Globe Light Bulb
Another good product by hansang. It offers almost the same features as the first product.
There are two different brightness settings, daylight and warm white; the color temperatures are 5000k and 2700k, respectively.
The base type is a single one, though. And that is the E26 one.
More photo & price on amazon.com
Pros:
Two brightness modes
Protects eyesight
Wide applications
Cons:
One base type
Not dimmable
Low voltage
3. L lohas LED G25 Vanity Light Bulbs
This product offers you a low wattage, which means you can place it anywhere in the bathroom.
The moisture is not going to harm the fixture or cause any disadvantages. It has an E26 base.
The low consumption makes it protect the environment and reduce your bills.
These bulbs radiate a soft white light of temperature 3000k, very comfortable for your eyes.
More photo & price on amazon.com
Pros:
Easy installation
Can be installed near water
Wide applications
Energy saving
Comfortable for the eyes
Cons:
4. Torchstar G25 Globe Vanity LED Bulb
Save yourself tons of electricity bills by upgrading to these torchstar bulbs.
They give off well-balanced light; at no point will you feel like it is too harsh or too low. They bring about an object's true color.
Moreover, they emit no infrared or any other kinds of radiation that can be considered harmful for your eyes or body.
More photo & price on amazon.com
Pros:
No harmful emissions
Energy saving
Omnidirectional beaming
Can be used near water sources
Cons:
Only one light mode
Nondimmable
5. Maxxima G25 LED Light Globe Bulb
If you replace your incandescent bulbs with these g25 LED light bulbs, you will manage to save a lot on the electricity part. Which is not just good for your budget, but also good for the environment.
These globe-shaped bulbs are just 5 watts, which means you can place them in the vicinity of water resources.
More photo & price on amazon.com
Pros:
Low wattage, saves energy
Easy to install
Can be fitted around water sources
E26 screw-in bulb
Cons:
Nondimmable
Won't last too long
6. Comzler G25 Globe LED Light Bulb
From comzler, we have a globe bulb that gives a very bright daylight kind of light.
It will make sure that space is properly illuminated, giving you the vibes of complete daylight, enhancing the colors of every object.
The beam angle is 270 degrees, ensuring that the light goes everywhere, in an even manner. There are no harmful radiations, so the safety of your eyesight and health is ensured.
More photo & price on amazon.com
Pros:
Bright light
Wide-angle
Safe for eyesight
Easy installation
Cons:
Nondimmable
Not waterproof
High wattage
7. Kohree Edison LED Globe Light Bulb
The clear glass just feels more original than the blurred ones. They have a better light projection everywhere.
That's what these kohree Edison led globe bulbs have to offer.
And don't even worry about them hurting your eyes; the extremely warm and comfy light they give off makes up for it.
More photo & price on amazon.com
Pros:
Vintage design
Save electricity
Warm, comfortable light
Dimmable
Cons:
Don't light up immediately
Flicker on lowest brightness sometimes
8. Kakanuo G25 LED Vanity Light Bulb
Keeping all your vanity spaces in mind, these bulbs are designed to fit themselves almost anywhere. They have a bright daylight effect, with a temperature of 5000k.
You can install them in 3 minutes maximum, and you would not even require any previous knowledge for that.
You will be able to DIY them. They are not just easy on your electricity bills, but also on the environment.
More photo & price on amazon.com
Pros:
Eco-friendly
Natural daylight
Easy installation
Eye protection
Cost friendly
Cons:
Nondimmable
One brightness mode
9. TCP 5W LED Globe Vanity Light Bulbs
These bulbs are not just decorative; they are highly functional as well. They will give you the brightness of a 40-watt incandescent bulb, but will only use 5 watts in the process.
They will last you longer than what you expect them to. The E26 screw base means they will be able to fit themselves on almost all fixtures, not just vanity spaces.
The color and the light beam is consistent; it wouldn't bother your eyes at all. The color temperature is 2700k.
More photo & price on amazon.com
Pros:
Easy installation
Fits most fixtures
Saves money
Long-lasting
Cons:
Harsh color
Emit a low buzzing sound
10. L Lohas LED G25 Globe Bulb
The mild light emitted by these bulbs is very therapeutic for the eyes. It isn't just the least harmful; it also has a pleasing and fatigue relieving effect on the eyes.
The heat produced from these bulbs is equal to almost zero.
The low heat, combined with comfortable brightness, make it the perfect fit for your vanity spaces.
More photo & price on amazon.com
Pros:
Fatigue relieving
Good heat dissipation
Warm white light
Wide beam angle
Cons:
Nondimmable
One-color mode
11. Samba lighting LED Vanity Globe Bulb
If you value aesthetics as much as you value functionality, then this is the product that you need.
Clear glass is always a good option, especially when you have the option of adjusting the brightness.
You can adjust the brightness of these bulbs however you want. You can have all temperatures of colors, ranging from 2000k to 6000k, with the dimmable option.
More photo & price on amazon.com
Pros:
Dimmable
Brightness range is good
Aesthetic look
Safe output
Don't flicker
Wide-angle
Cons:
Don't project forward-facing light
12. Sunlite G16.5 LED Light Bulb
No matter what features other bulbs offer, the dimmable ones have a huge advantage over the others.
By purchasing only one set of them, you will feel like you have purchased bulbs of many different temperatures.
These have different temperatures too. They can be used in any fixture at all.
More photo & price on amazon.com
Pros:
Fully dimmable
Wide range of applications
Bright white light
Easy to install
Cons:
High wattage
Base is not widely used
13. Great Eagle A19 LED Light Bulb
The warm light of 2700k is the best replacement for the incandescent bulbs that you might have had.
There are no additional blue or yellow hues, so the light is pure, original, and soothing.
You will be able to cut the costs by 80% by switching to these.
More photo & price on amazon.com
Pros:
Warm light
No added hues
Cuts costs
Instant-on
Cons:
Nondimmable
Don't last very long
Cannot be used near water
14. Aooshine LED Vanity Light Globe Bulb
With these bulbs, you can save, you can make your make up mirror look good, and give your face a really warm and comfortable light.
They will go easy on the eyes, as well as provide a stable light to your facial features, avoiding awkward shadows.
More photo & price on amazon.com
Pros:
Easy to install
Universal base
Lasts long
Warm white color
Cons:
Cannot be used near water
Nondimmable
15. Sunco Lighting 12 Pack G25 LED Globe
Last but not least, we have the Sunoco LED globes.
Of course, we cannot replace the actual daylight with the electric lights, but these bulbs are really close. They offer bright light that is 5000k in temperature.
And the best part about them is that they are dimmable. You can adjust them to any setting that you prefer.
More photo & price on amazon.com
Pros:
Dimmable
Stable light
Saves bills
Eco-friendly
Cons:
Cannot be used near water
Get hot
Frequently Asked Questions
Should bathroom vanity lights face up or down?
The light is supposed to be centered over the basin. They should be well above the floor. It is better that they should be placed in the wall and not the ceiling.
If they are placed in the ceiling, they will have to face down. The ones in the wall, however, can point up, as well as down. It is best to place it so that it points downward.
The downward direction will let it illuminate your face and the mirror well.
Should vanity lights be up or down?
Vanity lights are placed above any mirrors of the house. They help provide lighting for day to day errands.
If you want direct lighting above the mirror, then you can place the vanity light facing downward, because then the light will be shining directly on the mirror and you.
If you want indirect light, then you can make the vanity lights face upward, so that the light doesn't fall on the mirror or you.
What bulb is closest to natural light?
The bulb that will give you close to daylight appearance is the halogen bulb. The halogen bulb gives off white light, which appears approximately like daylight.
If you place an object under a halogen light bulb, you will see that its colors begin to appear sharper.
They are more expensive than incandescent bulbs, and their temperature increases more than them too.
Should I use soft white or daylight bulbs?
It depends upon what suits your taste. They both have their own appearances, and neither can be called absolutely better than the other.
The daylight bulbs will give off a natural daylight effect. They will make the color contrast appear greater as well.
However, the soft white light has a lower intensity, making the light warmer, and giving a more comforting light.
So, it is totally up to your preferences.
Is warm white or cool white better for bathrooms?
The cool white light is between 2700 and 3000 Kelvin. It gives off a yellow and warm vibe, which is typical of an incandescent bulb.
The warm white is between 3000 to 4000 Kelvin and gives off more of a yellowish-white vibe.
The bulbs that give off a warm light are best for bathrooms and kitchens.
Can any light be used in the bathroom?
No, it can't be. A bathroom is divided into three zones, and all the light fixtures in any of the zones have to be according to zone.
The first zone is the one directly above the bathtub or the sink. It is better not to have any light fixture there. The ones on the premises of these water bodies need to be low voltage.
And the last zone is the one that isn't near the water sources. You can fit any light in there.
The warmth of the lights doesn't matter. You can use them according to your preference. However, warm white light is preferred.
How many watts should a bathroom vanity light be?
The bathroom vanity light, if placed at least 75 to 80 inches above the floor, has to be 150 watts ideally.
The light should spread over the fixture so that the light is distributed evenly across the face.
How many lumens do I need for bathroom vanity?
For the bathroom vanity, it is best to use it as a 60-watt bulb. The 60-watt bulb is going to produce 800 lumens.
So, you need 800 lumens for your bathroom vanity.
What are the regulations for bathroom vanity?
According to the American lighting association, the vanity lights must be at least 65 to 70 inches from the ground.
They should be almost at eye level, but above the mirror. This will allow them to illuminate your face in an even manner.
Also, the unwanted facial shadows that are produced by placing the lights either below or above your face will be reduced if you place them at eye level.
Should mirror be the same size as vanity?
It is a rule that the mirror is supposed to be a few inches less than the space that is occupied by the sink area or the vanity.
So if you have chosen that your vanity space is 48", then your mirror should be 44 to 42 inches maximum.
Otherwise, it will look like it has overpowered the room.
Conclusion
After reading this guide, you will not only be able to make a decent purchase for your bathroom vanity, but you will also know almost everything about the light placement.
We hope you make the best possible purchase for your money!
Read Also: