Basically, a bathroom is a very personal and intimate place for everyone where you need comfort, hygiene, and, most of all, good lighting.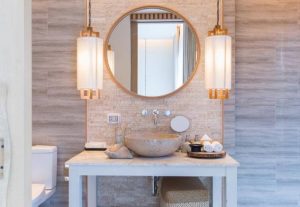 It is the first place where you enter after taking a good night's sleep and perform your daily routine, and when you are in your bathroom, you can either take a shower with perfect led lights or do your makeup and even make your hair.
For all this, you need a bright atmosphere and perfect vanity lights or just good lighting for the fact.
Let's discuss 11 different types of bathroom lighting ideas in detail and solve most of our worries:
1. Mirror Lights
Basically, mirror lights come in various ranges of power output, brightness levels, colors, and other technologies.
You will have to find a mirror light that falls on to your requirements, for example, if you are looking for mirror lights that provide optimum brightness levels and helps you complete your daily tasks such as washing your face, shaving, doing makeup, or even clicking selfies.
But if you are looking for a super bright exposure, then you would want to look for greater wattage of the lights.
These mirror lights are quite trendy and easy to install as well, so if you want your bathroom to look exquisitely bright, then get these lights now.
2. Tube Lights
People with larger bathrooms need to get led tube lights or wall lights now because these are the perfect solution for your daily lighting needs. These lights can be used at a lesser price than other substitutes and also serves a brighter function at the same time.
If you get a tube light, you will need to find big space for it, though, and also make sure that the light doesn't consume a lot of power.
Led lights basically save power, so you need to get exhaust fan led light instead of traditional ones.
3. Hanging Lamps
If you want your bathroom to give an appealing look and ambiance to you when you step in and also to look good in front of your guests, then you need a stylish low hanging lamp for your bathroom now.
These lamps provide medium lighting and are exquisitely modern for your bathroom aesthetic and also are easy to assemble.
You can hang them in the middle of your bathroom right into the ceiling or attach them to the wall. Either way, they will work perfectly fine and amaze you with the awesome results remarkably.
4. Ceiling Lamps
Ceiling lamps are different than hanging lamps because they are installed directly into the ceiling and don't hang.
You can get medium to super bright ones as well if you want, and they will perfectly light up your bathroom in both mornings and evenings.
If you are looking for medium coverage, then this your best bet because some people like subtle lighting and a comfortable pace in their bathroom so that this one will do the job.
5. Track Lights
So led track lights are 3 or 4 bulbs in one track, and they basically can be installed on the walls or right above your mirror in order to light up the whole bathroom in one go.
It is the most convenient way to light up your bathroom and perform your daily tasks because it comes in a lot of features and colors as well.
You can get yourself that can suit you best and stay worry-free.
6. Wall Light Tubes
These wall lights work best for bathrooms and are compact in size but super bright for your bathroom.
These lights give a modernized look to your bathroom and also enhance its exterior effectively in order to give you an appealing look to it.
You can easily impress your partner or family members by developing your lighting system in the bathroom and get these lights installed.
7. Vanity Lights
A vanity light is a multi-light wall fixture that is commonly used in bathrooms and powder rooms.
Vanity lights are installed horizontally above a mirror, but there are also some styles in vanity lights that can be mounted vertically on either side of the mirror.
There are so many different kinds of vanity lighting out there that provide many types of bulb fixtures, brightness levels, colors, designs, and much more.
8. Chandeliers
Okay, now you must be surprised that how a chandelier can be the best lighting idea for your bathroom, but let us tell you that chandeliers are not only huge and super bright lighting fixtures, but there are also many chandeliers that are in moderate size and provide soft lighting.
These chandeliers are commonly installed in larger royal bathrooms.
But you can install it in a medium-sized bathroom as well in the very middle on the ceiling so you can enjoy the perks of royalty.
9. Scones
Lighting scones are highly portable and are for both indoors and outdoors purposes.
You can place them in your bathroom almost anywhere and fix them easily on the walls and expect great lighting exposure as well.
You can find different types of designs in the market, but scones are best when they give vintage vibes, so look into those for your bathroom, and it will change your whole perspective.
10. Single Light Bulb Fixtures
Coming onto the single light bulbs for a bathroom vanity that can be easily installed almost anywhere in any frame and you can get them in various shapes and sizes as well!
So what else can you find for your bathroom that has all the qualities in one product?
Just make sure they are long-lasting and good quality bulbs that offer safe lighting for your bathroom.
11. Flush Lights
Flush ceiling lights fit flat or close to the ceiling and are ideal for lighting up bathrooms with lower ceilings.
There is an extensive range of flush lights in the market out there for all types of bathrooms and are splash-proof with a lot of other flush settings as well.
Conclusion
Here are different types of bathroom lighting ideas for you, and now you can easily change your lighting system in your bathrooms.
Just focus on what kind of ambiance you want in your bathroom and pick one idea! It will be really easy for you now to choose one because every lighting idea is discussed in detail.
Read Also: