The swimming pool is the comfort zone of your house. You can enjoy in your pool at night in peace if you have well lit thrilling and moral raising charming lights.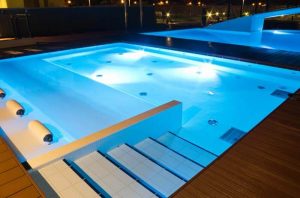 Different types of pool lights are available in the market; however, you have to be very smart in this choice.
You cannot choose that easily with this deluge of brands out there.
Understanding the dilemma, this article gives you a list of 9 best pool light types that you can get acquainted with and then make a choice.
Pool Light Types
Without any further ado, I would like to start with the list that is prepared to keep in mind present-day standards, market approach, and customer liking. Let us start:
Flush Mounted Underwater LED Pool Lights
LED pool lights are the lights of the future. It is believed they will replace electricity lamps completely one day. The reason for this is the basic principle of diode being used in them.
LED lights are very energy-efficient and light up the whole pool with a vast projection range, and you will surely love it.
The beauty of flush-mounted light is that they will not escape pool walls and give an aesthetic look.
Flush-Mounted Underwater Halogen Pool Light
Halogen lights are more of traditional light. They are being replaced by LED lights slowly. Although they are more powerful, they require more maintenance as well.
Installation is also difficult. One plus point is that they are very much cheaper than LED pool light for their simplicity.
Surface-Hung Underwater LED Light
They are also very appealing lights. They will light up your pool without facing any difficulty during installation.
They are not flushed inside the pool wall and do stick out a little.
Because of this feature, they are very easily damaged as some may be forced by instinct to use them as a step to move upward.
Surface-Hung Underwater Halogen Pool Light
Just like LED surface mounted light, they are the same except the light used is halogen rather than LED.
These lighting light up the pool, are easy to install and give your room a certain charm.
They are also very much cheaper than surface-hung underwater LED lights because of their principle, which does not require many details.
Garden Lighting For Pool
Among various pool lights, garden lighting is very much safer and easily managed. Because in addition to the pool, the area around, i.e., the landscape is also lightened up.
They need to be properly adjusted with special planning and easy installation. But you need to be careful not to place them somewhere useless.
LED Floodlighting
This is another category of LED light for your pool named LED floodlighting.
In addition to the pool, the area around the pool is also lightened up, keeping you safe from unwanted ghosts.
You can install the lighting with your average toolkit without any needs for things outside.
Place the light with adequate planning.
Halogen Floodlighting
Light LED floodlight; Halogen floodlights can also be adjusted in accordance and illuminate the area in and around the pool very well.
They are affordable and easy to assemble, as well.
When matched with LED lights, halogen lights do not last as long, and you'll regularly need to change the bulb inside.
Featured Lighting
This is another masterpiece in the realm of pool lighting. You will love this one very much.
You can use LED or halogen light to light up a special feature of your pool or any area around the pool.
You can use it to highlight beautiful garden plants around, which will make you fall in love with the pool experience when you are laying with utmost ease looking at nature all lighted up.
Submersible and Floating LED light
It is another special type of light that is out of the box and appealing. You can use them for beach parties, house functions, and whatnot, and they will certainly add a charm to your festival.
They come in all types of different sizes, shapes, colors, and specifications. You can easily choose from a pool of features which one you want for your backyard.
From red lanterns to white lilies, they either flow on the pool surface or are submerged.
Conclusion
I hope I've made you happy with this detailed review of different pool lights, which you will certainly love to your fullest. With this knowledge, now you choose according to your needs.
You will come across many brands, but if you know the types properly, you will never face such difficulty, and you will have to consider your house member and budget for your choice.