Interior and outdoor décor involve many aspects, one of which is the lighting. Lighting is of great significance, as it can entirely change the way your room or space, appeals to the human eye.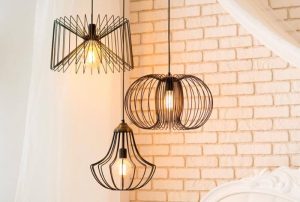 Lighting is mainly categorized into three types that are; task, ambiance, and accent.
Many different types of lighting fixtures will each provide you with one of the above-mentioned lighting styles.
Given below are the 20 different types of lighting fixtures that we have selected for you, each with their purposes mentioned in the description below so that you can make a choice.
1. Desk and Table Lamps
These are mostly used for study tables or on side tables next to your beds. They add elegance to your room and serve as a good source of lighting for reading or studying etc.
2. Chandeliers
Mounted onto the ceiling, chandeliers add class to your room, as they are mostly big in size and pretty noticeable.
They come in all sizes, shapes, designs, and materials, so it's easier for you to make the choice that fits best in your room.
They are best suitable for big rooms such as dining rooms or lounge etc.
3. Fan Ceiling Lights
In some cases, the owners are looking to add fixtures to the ceiling that are double duty, so as to reduce the number of fixtures.
One of these fixtures is fan ceiling lights. These lights are installed in the fans and provide comfortable lighting.
4. Vanity Lights for Bathrooms
Vanity lights are mostly used in bathrooms. They will make it easier for you to get ready and do your makeup, as they are specifically designed for the purpose.
Before purchasing these lights, keep in mind the length of the vanity mirror in your bathroom.
5. Light Bulbs for Outdoor Lighting
Light bulbs for outdoor fixtures are a good option for outdoor lighting, as they come in high voltages and are brighter as compared to some other lighting fixtures.
They are brightly lit, and only a few of them can illuminate the whole space.
6. Solar Lights for Outdoor
If you want to lighten up the outdoor in the evening hours but are worried about the extra bills, these lights are made for you.
Solar lights, charged by the sunlight at day time, are automatically or manually lit at night.
Before purchasing and installing these lights, make sure the place you are installing these at receives a good amount of sunlight during the day.
7. Vintage Lights
If you like to decorate your room with themes, vintage lights can be aesthetically pleasing to you. They add instant beauty to your room and are dimly lit.
Adding these lights to your room will give it a vintage or a rustic look, hence the name.
8. Dimmable Lights
If you would like to control how bright or dim the lighting in the room is dimmable lights are a perfect option to consider.
The brightness can be adjusted as per your requirements during different times of the day.
So, you need not worry about not enough light for reading or for waking your kid up at night cause the lighting is too dim or too bright.
9. Sloped Ceiling Adaptable Lights
A very common problem that people face while installing chandeliers or lights is that the ceilings in some cases are sloped, and they are worried the lights won't look good.
This is easily solved by sloped-ceiling adjustable lights. They hang from the sloped ceiling and can be adjusted and thus make sure that it doesn't look bad.
10. Sconce Lighting
Sconce lights are directly mounted to the wall and are used both indoors and outdoors.
They are used to add shade and style to the room and are, in most cases, installed next to art pieces to highlight and draw attention to them.
11. Spotlights for Outdoors
As the name itself suggests, spotlights are used to illuminate certain spots by pointing the direction of the light in it.
Used for outdoor lighting, spotlights are installed to highlight plants, statues, walls, etc. They are best suitable for installing in gardens.
12. Pendants
They are mostly hung above the kitchen bar or stove etc. in a row or in pairs. They add extra lighting and make the place look more attractive.
If the room is big, adding pendants to places where you need light, such as over the kitchen bar, it is a good idea.
13. Garden Lights
The light in garden lights is pointed in the downward direction and is spread outward. In terms of their design, they resemble street lights but are much smaller in size.
They can make even the smallest of plants or roost visible and are, therefore, a good option for the gardeners.
14. Bollard Lights
Bollard lights are one of a kind. They are designed like posts with the lights on top.
When illuminated, they spread in all directions and make a circular disc on the ground.
These are the only outdoor lights that work this way.
15. Flood Lights
Floodlights are specifically designed to illuminate large areas in outdoor places. They work in a similar manner to spotlights but cover a wider area and are comparatively brighter.
They can be used to illuminate driveways etc.
16. Step Lights
Step lights are either installed on walls or on the stairs.
They are specifically designed and used to lit staircases to avoid any accident or tripping that may be caused due to the lack of lighting in that area.
These are especially helpful for older people and kids, as there's a higher chance they may slip and hurt themselves.
17. String Lights
As suggested by the name, string lights in terms of their design look like strings. They are specifically used to make the view aesthetic and picture-worthy.
These lights can also be used outdoors, hanged over trees, etc. for outdoor décor during events and ceremonies.
18. Recessed Lights
Recessed lights are installed above the ceiling. Once installed, all you can see is the light shining through the ceiling.
As the name itself suggests, they are suitable for open places that do not need bright lighting.
19. Under the Cabinet Lights for Kitchen
These lights, installed under the kitchen cabinet, make sure that the shelf is well illuminated at all times so that you know what you are doing.
They also add an aesthetic look to your kitchen.
20. Track Lighting
Track lights are fun to play with. They are rotatable and can be focused on one part of the room.
They are very good for dramatic effects or to focus or illuminate a point.
Conclusion
When it comes to designing the home, lighting is one of the factors that need to be taken into account.
Good lighting can make your space look bigger and more beautiful, and lights like vintage or pendants or chandeliers can be aesthetically pleasing as well.
These are only some of the options, from a wide selection of lighting fixtures that are nowadays available in the market, for you to choose from.