A table lamp can have many functions and can be used practically and functionally at a work table or desk where you need direct lighting to focus on your reading, writing, typing, and much more.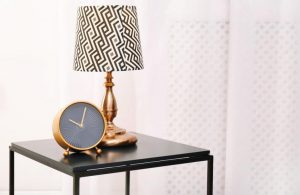 A table lamp is supposed to create ambient lighting and create a nice and smooth atmosphere in the whole room, and why not?
This is what everyone wants, right?
For your own room, you would want something customized according to your needs, and this is why in this article we are going to let you know about some amazing ideas on types of table lamps that you can get for your room or any table where you want to place it on.
Also, these ideas are merely just type of those lamps, so if you want to know about different brands offering them, then you would have to search for a good manufacturer.
Anyhow, let's dive into this:
Top 17 Types of Table Lamps
1. Desk Reading Lamp
A desk reading lamp refers to a type of task light, which is designed for a desk or a working table.
The lighting output is directional and adjustable so you can choose the direction according to your needs, and the beam can be moved at an intended object too, so if you are reading, then you can direct it towards your book.
Its initial creation was done to maximize the room or work environment as a localized work source.
This is a useful and convenient type of a table lamp and can be your best bet!
2. Mid-Century Gourd Lamp
A mid-century style gourd lamp is known to look like a curvy, bulbous base that serves a resemblance to a typical gourd.
The shape has been immensely popular in the old days, and now this style has made a comeback!
There are many different designs that you can search in gourd lamps that are best suited to be placed on bedside tables, living area tables, and desks even.
You can easily make use of them by utilizing them as a décor piece even so your lounging area has a good style and lighting exposure at the same time.
3. Tiffany Lamps
Tiffany style lamps are replicas of the leaded glass originals made by their namesake.
The shade of the lamp is a humongous one indeed that depicts originality from the Victorian period.
You will be amazed at its lighting capabilities and also the style, so why not keep it in your living area?
Or maybe your bedroom even! This Tiffany lamp can be the one to meet your luxurious standards.
4. Candlestick Lamp
Just like the previously discussed gourd lamp, a candlestick lamp serves its name and has a long tall figure that lends elegance in the entire room.
Candlestick lamps are rather high end and best suited to formal dining tables, living room seating's and buffet tables as well, so why not get one of these as a good lighting ornament that will light up a whole modern space and also reflect on to your other fine pieces in the room?
5. Lava Lamps
So these lamps are quite trendy and funky, but these lamps are not just for kids or hippies.
A lava lamp is made up of wax and colored liquid in a bottle, and the base has a light bulb fixture, which helps heat up the bottle and makes the wax melt-up and moves around in the bottle.
This way, you will have a motion light output in the room, and also these lamps are quite an old-style but still used by many families in their homes.
6. Salt Lamps
A Himalayan salt lamp is a decorative light that you can get for your home. They are carved out of pink Himalayan salt and believed to have various health benefits.
In fact, advocates of salt lamps claim that they clean the air in your home, soothe allergies and boost your mood when you want to sleep.
They can actually help you to sleep in dim lighting, so placing them on your bedside table is a good idea.
7. Arched Table Lamps
This is a good option for your direct lighting needs because it arches above your bed, helping you to perform various tasks such as reading.
It is not as convenient as a desk lamp, but it will certainly do the job and also with a traditional touch to it.
The décor it provides to the bedroom is also highly appreciated, and most users have claimed that this style has helped enhance their bedrooms in a different way.
8. Tripod Lamps
A modern twist on a classic colonial design, the tripod lamp features a neutral, colored, linen-effect shade and metal bolts for a touch of industrial character.
It is crafted from high-quality wood; this sturdy and rustic lamp is a stylish and innovative lighting solution for any room of your home.
So what are you waiting for? Just start researching about these lamps that come with three legs and provide the best stability!
9. Torchiere Table Lamps
A torchiere is a tall electric table or floor lamp that is designed to specifically enhance the beauty of a room with a directional upward lighting exposure.
Many torchiere lamps are used for task lighting, but some are just decorative and light up living space to give a subtle glow.
The bulb in the lamp is designed to point upward, and the shade covering on the bulb opens at the top.
10. Contemporary
A contemporary or modern style covers all fittings that reflect the style and character of the modern age.
The current zeitgeist seems to suggest that lights with sleek, sharp, and unique style with a slight emphasis on the minimal pass the test to become a contemporary style table lamp.
These types of table lamps are designed to fit into any age and any time and also light up any area.
They are also made up of colorful glass or shiny metal to provide a vibrant yet sleek effect.
11. Vintage Style
We often ascribe the term vintage to items that are almost as old as 100 years.
Nevertheless, lamp's age does not correspond to high value, and modern lamps may be worth a fortune as collectibles depending on the manufacturer or circumstances of the production.
These vintage style lamps are often used as bedside table lamps and are adjustable because of their gooseneck; you can also see that they utilize incandescent lighting instead of the led one to provide a subtle glow.
12. Kid Lamps
There are many different styles that reflect on the latest toys, characters, and cartoons that are primarily for kids to keep in their bedrooms.
These types of lamps go with most kid themes, and you can get them for your son or daughter and also get them customized according to the theme they are going with.
Obviously, a kid would need dim light to sleep at night peacefully, and for that, a themed lamp would do the best job!
13. Minimal Illusionary Lamps
These types of lamps are typically small in size and provide ambient lighting in the room to help you sleep at night.
Also, these types of lamps are famous for setting the mood and also helping you relieve yourself from any stress and anxiety.
14. Banker Table Lamps
These types of table lamps are not that much appreciated as a bedside light because they don't have any adjustable necks or offer any directional lighting to help perform tasks.
But you can use them in your living room as an ornament or décor piece and call it a day!
15. Wall-Mounted
You can also get yourself wall mounted lamps that can be mounted right above your bedside table and are the best choice for families.
You can easily mount them on the wall, and these lamps will provide task lighting efficiently.
16. Regular Lamps
If you are a simple person who would want a staple design that isn't too much, then the regular table lamps will do the job.
Just go with a natural crème shade or any other one according to the theme of your room, and these lamps will truly light up your living space.
17. Novelty Table Lamps
Novelty lamps can fall into any category because they can be what you want them to be.
They can be placed anywhere, designed according to your needs, and you can also change their bases according to the theme of your living space.
It is a unique lamp that offers much more than just a good lighting experience.
 Conclusion
Here is a complete guide on the different types of table lamps for your working or living space.
I hope you have been cleared about these lamps dutifully, and now you can choose one type for your home.
All these lamps can rest assured, give you the best lighting experience, so why not pick one?