Choosing suitable outdoor lighting can enhance the appearance of your house by a lot. Giving your house a totally new look and adding to its beauty.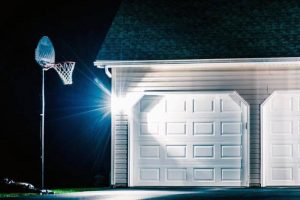 Your yards, lawns can be totally lit up with beautiful shades of lights falling upon them.
However, you sometimes get confused about the different types of outdoor lights available that you could choose from.
So, let's look at 15 different kinds of outdoor lights so you can choose what's best for you depending upon your preferences.
1. Spotlights
This is the most basic type of outdoor light, and their essential feature is that they throw light in only a single direction.
However, they can be used in a lot of ways, but still, they have no additional fancy features, for which you have to invest your own sort of aesthetics.
Different models vary in brightness they offer and the area they cover and are usually appointed to point to a single object like a statue or some paintings, etc.
2. Flood Lights
Floodlights can be thought of as an upgraded version of spotlights. They are typically used to cover wider areas with a high range of brightness.
For example, if you have a garage to light or a driveway, floodlight can be a very good choice for that.
However, they are also quite basic and don't have any fancy features.
3. Step Lights
As the name strongly suggests, step lights are specifically built to be fit into steps or something that sort.
This doesn't mean that you can only use them in stairs or walls, anything which has some sort of steps built in it.
They add a lot to the beauty, and even a regular wall looks attractive to them.
4. Garden Lights
Again, it is quite obvious from the name that the lights are specifically designed to light up the gardens in your house.
They can be both used commercially or otherwise.
However, there is no second thought to how much they add to the beauty of your garden. Like mushrooms of light, its almost as if your garden has got a new look.
5. Bollard Lights
Bollard lights are actually quite different from the other types. They are amongst the few lights which throw light in each of the four directions.
The architecture involves a poll with the light source on top of that. Without any cover or anything, just the light.
No light is wasted as all directions are equally lit up, making them quite useful in the dark areas.
6. String Lights
String lights are usually quite subtle and are essentially used beside the things which need to be seen through.
For example, you can install them beside a palm tree. The light will let you have a great view of the tree, adding to the scenery instead of blowing out the view of the tree.
7. Downlights
These basically came into being as a result of modifying the actual design of the spotlights.
While they can also throw light in just a single direction as spotlights, they are a lot fancier as they create breathtaking textures and designs on whatever they throw their light onto. It can be installed in yards or on walls.
So, if you already have a spotlight installed and fixed on your outdoor walls, this can be considered as a good upgrade.
8. Motion Sensor Lights
Motion sensor lights were originally invented by keeping security in mind.
Due to their property of turning on automatically whenever they detect a movement, it makes them a very good candidate for a security light.
They are installed by a lot of people along with alarms as a security measure outside their homes. Any significant movement alerts the light, and it starts flashing.
Another useful feature is that they do not need to be turned on; whenever you come close, they automatically turn on eliminating your need to be searching for the power button.
9. LED Motion Sensor Lights
While motion sensor lights turn off when they don't detect any movement and turn on again when they do, this rather quick toggle operation makes them a pretty heavy consumer of electricity, which makes people become hesitated to buy them.
As a result, LED motion sensor lights have been introduced, which use a lot less power hence being pretty light in your electricity bill.
10. Barn Lights
Barn lights are essentially used as decorations and come in many different styles ranging from conventional ones to pretty modern ones.
They throw light downward a circled manner, making kind of rings on the receiver.
However, they also waste light as it is limited from going into the other three directions.
11. LED Flood Lights
LED floodlights, which are replacing the regular flood lights very quickly nowadays, are also used to light up huge areas and provide a lot of brightness.
However, they use LEDs as a light source, and hence they consume much less energy and can be used for longer durations without worrying about your electricity bill.
But they have a downfall as well; they don't shine as bright as the conventional incandescent lights.
12. Wall Lantern Lights
Wall lantern lights are made in a very conventional way, which is often the reason why people like them.
They add a lot to the beauty of your exterior walls, giving them an old school vibe.
13. Bulkhead Lights
You might not have heard the name, but these lights are actually pretty common on the exterior walls of houses.
Having a kind of cage built around the bulb for its protection, they are not used as a primary source of light and only installed beside doors or stuff to add to the scenery.
14. Strip Lights
Strip lights are a very good option for different kinds of versatile lighting ideas as they have a lot of scenarios where they can be used.
They just come as a strip, and you can literally install them anywhere you like, adding to your choice of decoration.
They are also pretty easy to install, and you don't need any technician to help you with that.
Many people use them in stairs, or in their closets as well. They also consume a very less amount of energy so you can keep them turned on for long periods of time.
15. LED Pool Lights
As the name suggests, LED pool lights are used to light up the pools, adding to their beauty. These lights are waterproof and are installed underneath the water.
They light up the whole water, and you can see clearly inside the pool, with the water reflecting the light off and giving a beautiful overall aesthetic look.
LEDs are used to make energy consumption lower.
Conclusion
So, these were 15 different types of outdoor lights you can use for the exterior of your house.
These can be used for different purposes, and whether you need to play sports outside, need to add to the aesthetics, or just want to decorate your house a bit, these lights are just the perfect ones to install.